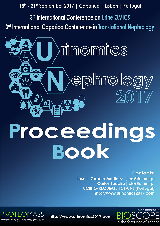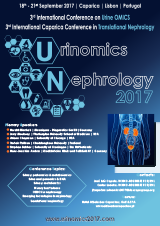 And here we are again! After two years of intense work I am sure that all of us have news to share about that incredible sample called urine and that incredible organ called kidney. The journey we started together two years ago is this year going to have a new marvellous meeting in Caparica. Urine is the best storyteller of us. As such it has grown constantly and consistently since we met in 2013: 6817 are the manuscripts published in 2013 and 2014 related with urine and the "omics" field.
The good memories we have from the 2013 and 2015 meetings, it guarantees a wonderful 2017 meeting. And we indeed believe this is going to happen. Yes… but with some changes.
First we are going to make the schedule less intensive and second we are going to set one evening free, so you may decide between relax at the beach, or visit Lisbon in an organized trip. This trip will include the crossing of the Tajo Estuary by ferry. You may even decide to play golf, or go to the SPA facilities the new venue has available (see more at (http://www.aldeiadoscapuchos.pt/).
And last, but not least, we have some of the best in the arena:
Plenary Speakers
Harald Mischak, PhD

Mosaiques- Diagnostics GmBH, Hannover (Germany)

Urinary peptides as biomarkers in clinical application: from discovery to implementation

Jerry Morrissey, PhD

Washington University School of Medicine in St. Louis (USA)

Metal-Organic Frameworks Preserve the Biologic Integrity of Patient Samples, Biodiagnostic Chips and Conventional ELISAs in Resource Limited Settings Eliminating Refrigeration

Arlene Chapman, PhD

Institute for Translational Medicine, Biological Sciences Division University of Chicago, Chicago (USA)

Proteomic analyses in hereditary kidney disease. New insights into pathogenesis

Trairak Pisitkun, PhD

Chulalongkorn University Systems Biology (CUSB) Center, Faculty of Medicine, Chulalongkorn University (Thailand)

Systems Biology Investigation of Disease Mechanisms and Biomarkers

Stephan Bakker, PhD

Department of Internal Medicine, University of Groningen, Groningen (The Netherlands)

Networks of Smart Toilets and the Future of Personalized Nutrition and Medicine

Hans-Joachim Anders, PhD

Nephrologisches Zentrum Medizinische Klinik und Poliklinik IV Klinikum der LMU München, München (Germany)

Pitfalls in translational research of the kidney
Keynote Speakers
Antonia Vlahoua, PhD

Biomedical Research Foundation Academy of Athens, Athens (Greece)

Integrative approaches for urine proteomics towards understanding disease pathophysiology

Marsha A. Moses, PhD

Professor, Harvard Medical School and Director, Vascular Biology Program, Boston Children's Hospital, Boston (USA)

Mining the Human Proteome: Biomarker Discovery for Human Cancer and Its Metatases

Marina Pitto, PhD

School of Medicine and Surgery, University of Milano Bicocca, Milano (Italy)

KIDNEY AND UROLOGIC DISEASES: TECHNICAL CHALLENGES FOR URINARY EXOSOMES PROTEOMICS

Robert Turesky, PhD

Masonic Cancer Center, University of Minnesota, Minneapolis, Minnesota (USA)

New approaches for biomonitoring exposure to the human renal carcinogen aristolochic acid

Fernando Teixeira e Costa, MD

Nephrology Service, Peritoneal Dialysis Unit, Hospital Garcia de Orta, Almada (Portugal)

Proteomic analysis of the peritoneal dialysis effluent

Joseph Shapiro, M.D

Dean, Joan C Edwards School of Medicine, Marshall University (USA)

Uremic cardiomyopathy, new insights into pathogenesis

Christopher Cooper, PhD

Dean College of Medicine and Life Sciences, University of Toledo (USA)

New evidence in treatment of Atherosclerotic Renal Artery Stenosis

Lance Dworkin, PhD

Department of Medicine, University of Toledo College of Medicine & Life Sciences (USA)

J.L. Gómez-Ariza, PhD

Universidad de Huelva Departamento de Química y Ciencia de los Materiales Facultad de Ciencias Experimentales Campus de El Carmen, Huelva (Spain)

Comparative metabolic fingerprinting of urine with respect to serum and bronchoalveolar lavage fluid in the search for lung cancer biomarkers

Francisco J. Lopez Hernandez, PhD

Salamanca Biomedical Research Institute (IBSAL) & University of Salamanca, Salamanca (Spain)

AKIPREV: A project to develop an innovative clinical decision support system to stratify patients and personalize antihypertensive and analgesic drug therapies, focused on the prevention of acute kidney inkury

Hugo Miguel Santos, PhD

FCT-UCIBIO-REQUIMTE, University NOVA of Lisbon (Portugal)

Differential phosphorylation provides a switch to prevent soft tissue calcification in patients in peritoneal dialysis
The Keynotes can be viewed here
The Oral Contributions can be viewed here
Yours truly
J. L. Capelo
C. Lodeiro
Conference chairs
On behalf of the organizing and scientific committee
Conference Subjects:
Urine and Proteomics.
Urine and Metabolomics.
Urine and Metallomics.
Urine and Genomics & Exosomes.
Urine and Bacteria.
Urine and Virus.
Urine and Diagnosis and Prognosis.
Proteomics in Nephrology.
Genomics in Nephrology.
Metabollomics in Nephrology.
Bacteriomics in Nephrology.
Viromics in Nephrology.
Emerging technologies in Nephrology.
Translational Nephrology.
Renal Infections.
Urological Cancers.
Urine and Toxicity.
Urinary Tumors
---
Warning for participants
Please note that Exhibition Housing Services, Exhibition Housing Management and Trade Show Housing do not represent the PROTEOMASS Scientific Society nor BIOSCOPE group, nor have PROTEOMASS Scientific Society or BIOSCOPE Group authorized them to use their names or trademarks on information they send out to participants.
MIND!!: Booking must be done directly with the HOTEL. Internet or travel agency bookings do not included meals and social events. See the Venue Registration section for more information.
Booking through the Internet and/or travelling agencies will imply additional cost for meals:
        • 15€/lunch/person/day
        • 22,50€/dinner/person/day
           no social events